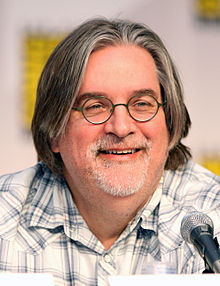 Matthew Abraham Groening (born February 15, 1954) is an American cartoonist, writer, producer, animator, and voice actor. He is the creator, writer, and executive producer of Disenchantment.
Early Life
Groening grew up in Portland, and attended Ainsworth Elementary School and Lincoln High School from 1972 to 1977. Groening attended The Evergreen State College in Olympia, Washington, a liberal arts school that he described as "a hippie college, with no grades or required classes, that drew every weirdo in the Northwest." He served as the editor of the campus newspaper, The Cooper Point Journal, for which he also wrote articles and drew cartoons.He befriended fellow cartoonist Lynda Barry after discovering that she had written a fan letter to Joseph Heller, one of Groening's favorite authors, and had received a reply. Groening has credited Barry with being "probably [his] biggest inspiration." He first became interested in cartoons after watching the Disney animated film One Hundred and One Dalmatians, and he has also cited Peanuts and its creator Charles M. Schulz as inspirations.
Trivia
His first show, The Simpsons is the longest-running U.S. prime-time television series in history, and the longest-running U.S. animated series/sitcom.
Community content is available under
CC-BY-SA
unless otherwise noted.