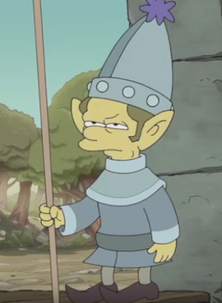 Watcho is one of the Elf King's soldiers. Along with his unnamed partner, Watcho is posted as a guard at the magical entrance gate that conceals Elfwood and separates it from the outside world. He admits to doing a lot of "watching, and judging, and generalizing".
Watcho was present when Elfo returned to Elfwood with his new friend Princess Bean. Watcho and his fellow guard, offended at Bean's suggestion that they were "racist" and unfairly prejudiced against her (for being a human and an outsider), allowed her to come inside with Elfo. Bean accidentally injured Watcho and knocked him into the mud, and tried to wipe his bleeding nose with a handkerchief, but grumbled that she should just go inside "before you help me to death".
As Watcho is a pure-breed elf, the handkerchief with his blood was later used by Bean to power up the Eternity Pendant and create an Elixir of Life to resurrect Queen Dagmar.